​Joel Rifkin
On June 28, 1993, State troopers spotted a pickup truck on Southern State Parkway with no licence plates. The driver refused to pull over and a short high-speed chase ensued. The truck crashed and the driver, identified as Joel Rifkin, was placed in handcuffs. As the trooper inspected the truck, he detected a foul odour coming from the back. Further inspection revealed the decomposing body of Rifkin's latest victim.
In 1994, Rifkin was sentenced to 203 years in prison for 9 counts of second-degree murder. Joel Rifkin is also a strong suspect for some of the bodies attributed to the Long Island Serial Killer, who remains at large.

---
All the stories in this collection are true and were submitted to me via the
Submissions Page.
The Haunted House Clown.
Four friends encounter a creepy clown at a carnival, but all is not as it seems.
The Man in the Dark Car.
A girl leaves a party and walks home alone. It isn't long before she realises that the night holds many dangers.
The Picture Book.
A man breaks into a house with the intention to steal items to fund his drug habit. He finds a picture book. The images contained within haunt him to this day…
"See you all on the other side. Warden, murder me. I'm ready to roll. Time to get this party started."
- James Jackson.
​Executed by lethal linjection on February 7th 2007 for the murder of his wife and two step-daughters.

---
---
"How's this for a headline...French Fries!"
- James French.
Executed by electric chair on August 10th, 1966 for murder.

---
---
---
Powered by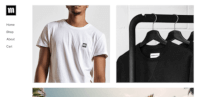 Create your own unique website with customizable templates.